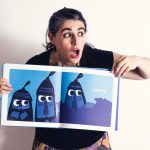 Oral narration show in a format created to promote culture, reading… It is a reason for meeting, participation and celebration of the neighbors of our city.
Company: Coolturearte (Spain – Madrid).
Miriam Palacios (Friday). Oral narrator. As a child, I always dreamed of stories. He liked to listen to them and read them because he wanted to dream, laugh, cry, travel, live other lives and other worlds. In 2005 she began to count them in the classroom, the children of children who shared one course after another with her. And little by little I began to feed on the emotions that the stories produce in others, be as old as they are. That is why she now does not only do it in the classroom, but for libraries, plazas, bookstores, associations, theaters, cultural centers, festivals of oral narration… and wherever they leave her. Behind every story told there are many hours of work. Since 2014 he has been in constant formation with oral narrators such as Héctor Urién, the Mustakis Foundation, Eugenia Mazanera, Jaime Santos, Teresa Corchete, Sara Iglesias and, in particular, his great teacher: Victoria Siedlecki, narrator oral of great professional trajectory and director of the School of Storytelling. He likes stories for breakfast, lunch, dinner… Anytime, anywhere. And even better if you can enjoy them in good company. That is why, in 2015, together with Susana SinPecas and Ángel Lahoz gave life to Tres tell stories, touring the neighborhoods of Madrid and its surroundings, telling stories for the whole family. In 2017, along with Susana SinPecas, Marta Alba and Elena Martínez, The Animal News is born, a story show for family audiences.
Susana SinPecas (Saturday). An Infantile Teacher, who enjoys every day in her work in a Children's House, these "crazy little ones" being her greatest source of inspiration and reflection. He has always felt weakness for drawing and painting, pencil and brush his best allies. You need to put your ideas on paper to feel alive. Ever since she was a child, she dreamed of overcoming her shyness to tell stories, and it was not so long ago that her dream began to come true. It feels like a fish in the water when you share your stories with others, a smile is drawn on your face and heart (all over your body…). Oral narration is now much more than a hobby, it is your way to rediscover the world, a new and fun way of life. And along with the illustration, are for her the threads to weave their concerns and show them to others.
Paloma Balandis (Sunday). Born in Zamora. As far as memory goes, he always listened to stories, romances, and legends. It was always clear that working with children was his vocation and that stories are as necessary as eating or breathing, and has managed to unite his two passions to become professionalized and to live the story. She has traveled through Europe, Asia and Central America, always working on educational projects very well accompanied by the stories, the ones she tells and those she has listened to. The first time he told a story in public was the hand of Charo Jaular, in his own land in Zamora. He trained in the art of storytelling in The Storytelling School with the narrator Victoria Siedleki, has taken courses with Eugenia Manzanera and Pingüi Storytelling. In addition to courses on Children's Literature with the University of Nébrija and the UNED. She was an Inaudita narrator in the Guadalajara marathon in 2016. She currently holds story sessions for different programs of "The Book and Reading Unit" of the Community of Madrid. It realizes counts sessions and animation to the reading in schools, centers of leisure and centers of aging. She is the narrator of the project "two by four" of pedagogical concerts through the short stories. She collaborates as a teacher in The Storytelling School, and she conducts her own reading workshops for parents, full of resources to read with our children at home. Tell tales for all ages, from babies to adults.
Official Program
Promoting Local Companies
Performances: Sept.29, 2017 at 6:30 pm.
Space: Plaza Palacio.
Performances: Sept.30, 2017 at 6:30 pm.
Space: Plaza Palacio.
Performances: Oct.1, 2017 at 6:30 pm.
Space: La Pajarera.
Duration: 50′ / Child Audience.