The FITEC within its objective of promoting the performing arts world, and from a perspective of performance, created for curriculum development Between-Spaces program, as a training mainly aimed at professionals, offering year after year one suggestive offer workshops and training seminars for artists disciplines.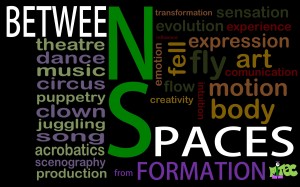 Between-Spaces program is created with two objectives: One aimed at strengthening technical and professional skills, in order to facilitate entry into the labor market of young artists and professionals in the related arts and the other aimed at introducing young people or new to the subject, in the world of the arts.
Workshops and seminars complement the Between-Spaces knowledge of professionals mainly from the general public and secondly, towards their work projects and/or leisure, in the various modern art forms, classical, contemporary, urban or representative of popular culture to sign for:
Contribute to the training process to strengthen creative skills in various areas of art and culture.
Promote the foundation for continuous training so that the career development of students is facilitated.
Promote basic training for people who want to learn and practice an artistic discipline.
Workshops and seminars of Between-Spaces usually have an average duration of 20 hours divided into 4 or 5 days. At the end of such an exhibition of works done during the days in which the Festival takes place.
We are currently engaged in extending this program to provide continuing education for professionals in the world of the arts.