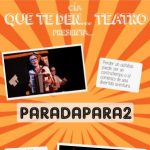 Losing a bus can be a setback or the beginning of a fun adventure. Paradapara2 narrates the adventures of two particular characters in their desire to take a bus. Everyday scenes that are transformed into truly chaotic situations that will make them lose their papers… and the bus.
* Show awarded with the prize for the best show at the XIV INTERNATIONAL STREET THEATER EXHIBITION "CIUDAD DE PALENCIA" and awarded as the winning company in the "MINÍVAGOS" section within the V NOCTIVAGOS STREET THEATER CEREMONY (Oropesa de Toledo)
Company: Que te Den Teatro (Spain – Ávila).
Official Program
Space: Plaza RENFE...
>>