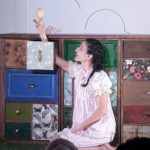 Through the well-known work of EL BOSCO, we enter the world of the dreams of children. We will discover fantastic beings, strange and funny characters, we will play giving life to the objects, awakening emotions and transferring us to the oneiric world that is presented to us in the painting The Garden of Earthly Delights. All the elements with which we work is an interpretation of the images that appear in the original picture.
Show made in collaboration with the education area of the MUSEO NACIONAL DEL PRADO in 2016/2017 in relation to the exhibition of El Bosco
Company: Ñas Teatro (Spain – Madrid).
Offic...
>>