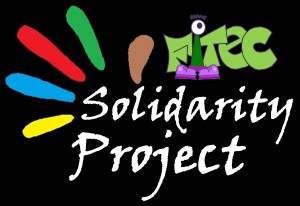 Year after year the FITEC is committed to a worthy cause to which he has devoted the resources collected during the course of the festival on the streets of Getafe.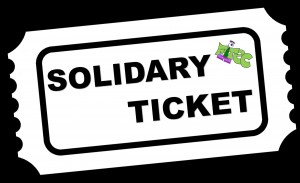 The "SOLIDARY TICKET" is the tool with which FITEC, supports and collaborates in a concrete and responsible with the world around us, for a few years, those projects that we are somehow identified form: "Doctor Clown", "Old Havana, City in Motion", "A Cidade das Crianza", "Holidays in Peace", "The Temple of the Moon" are some of the projects where we moved our small contribution.
SOLIDARITY COMMITMENT
These are the projects that year after year have been recipients of the Solidarity Project Festival:
Year 2015:
Allocate the Solidary Ticket to cooperate with the PayasoSalud Organization, Smiles that heal.
PayasoSalud is an NGO "Clowns in Hospital", a non-profit, through a team of professionals in the performing arts and therapeutic techniques with laughter, humor and clown, develops programs to promote and humanization of health improving the quality of life of sick or disabled people in hospital and/or health centers.
Objetives:
• Improve the quality of life of users.
• Encourage the recovery of patients.
• Relieve work stress of health personnel.
• Encourage family users.
Projects:
• Intervention Projects Hospital (PIH): implementation of treatment programs in hospitals, aimed at children and/or adults.
• Intervention Assistance Projects (PIA) intervention programs aimed at socio-care centers for people with chronic diseases or disabilities, and programs in residential centers for seniors.
Currently, it develops PayasoSalud Hospital Intervention Program adults in the Hospital Universitario de Getafe. With your help fill our hospital clowns "Smiles that heal" to improve the quality of life for people most in need.
You can also make them laugh!
COLLABORATE WITH PAYASOSALUD!
To help with this project can be directed to PayasoSalud
Year 2011: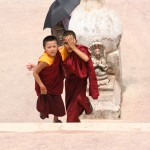 Allocate the Solidary Ticket to cooperate with the Karuna Dana Organization, development cooperation organization dedicated to protecting the identity of the peoples of the world and promote development that better living conditions of its members. Through the Tibetan Buddhist center of Madrid and Barcelona, ​​we present their project: "Tibet, another future is possible". We a haima exhibition and sale of products on the Tibetan Art-FITEC and delight us with the exhibition "Reflections of Tibet" consists of 50 photographs.
To help with this project can be directed to Karuna Dana
[flagallery gid=2]
Year 2010: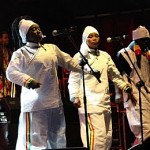 As in previous years the FITEC in solidarity with those whose project is in need of the contribution of many, that is, each and every one of us. In this edition we have the intimate involvement of "Thiandoum Brother" – African rhythms, a band born in Dakar (Senegal), because through music we echo the problems of the African continent.
To help with this project can be directed to Triandoum Brother
Year 2009:
Allocate the Solidary Ticket to work with Clowns Without Borders Association makes a valuable work in various third world countries with the most fragile sector of poverty: children.
FITEC expect from spreading concern with which these volunteers are given to these charitable projects, for everyone from its humble possibility, collaborate in creating a world full of smiles.
The comic as a tool of collective reinforcement: Support for Iraqi and Palestinian children in Syria.
Although many of them are not registered, it is estimated the number of Iraqis who in recent years have entered Syria fleeing the situation in their country in about two million. Of these, about a half million live in highly vulnerable on the outskirts of Damascus. Psychological trauma, and the scarcity of resources for school books and clothes and ignorance of his own legal situation have determined a low enrollment of refugee children which is very worrying.
PSF (Clowns Without Borders) began acting in Syria in 2007 to support the awareness campaign -Back to the Sholl- UNHCR and UNICEF organized PSF then made a first support project management and production company of clowns Iraqi (Happy Family). In addition, PSF organized workshops and shows for Iraqi refugees and performances held during summer camps organized by UNRWA for Palestinian children (Summer Games). In 2008 the intervention of PSF this time working with groups of women victims of war violence in Iraq and UNHCR voluntary (who care for refugees) to which humor and communication workshops was held restarted.
The PSF project beginning in October 2009 continues the action taken in the last two years, aims to contribute to improving the emotional situation of Iraqi and Palestinian refugee children in Syria found. In total the project will benefit at least 4,300 people, a figure that includes children and Iraqi and Palestinian refugee children attending the shows, the UNHCR voluntary and community centers workers and members of the local arts Iraqi company.
To help with this project can be directed to Clowns without Borders
Year 2008: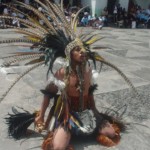 This year the FITEC seeks assistance through the Solidary Ticket where symbolically, as if paying a street chair it were, bringing to it what each viewer sees fit.
This year we see Wayra Samu live as an artist ambassador of their ancient culture. We allocate the booth to rescue the remains of "The Temple of the Moon" in the "Middle of the World" in Ecuador, and rebuilt by the "Temple of the Sun" of the ancient cultures of America.
Year 2007: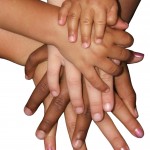 There are many projects where support is needed, and deste FITEC organization each year contribute our grain of sand in which, for some reason, we discovered that no one even noticed.
Allocate the Solidary Ticket JONATHAN LENIN SALAS operation, this is the name of an Ecuadorian child 5 years old, whose short life is marked by a serious cardiovascular problem. In Quito, where he lives at 2,800 meters above sea level, this problem is exacerbated, by becoming URGENT medical intervention difficult name called tricuspid atresia Pulmonary Hypertension. It is a cyanotic congenital heart disease with decreased pulmonary flow tricuspid valve atresia type Ib, as stated in the medical certificate issued by the Department of Cardiology of the city of Quito.
Year 2005:
We allocate the Solidary Ticket of the Association of Friends of the Saharawi people of Getafe, which develops a program called "Holidays in Peace", working with Spanish families hosting children from the Sahara during the three summer months.
Year 2004:
We allocate the Solidary Ticket to the United Cultures Project Association as "A Cidade das Crianzas" which took place in Marracuene, a town 32 km. From Maputo, capital of Mozambique. Whose aim was to create a home-workshop to educate and accommodate children and adolescents who were in extreme poverty, education, health and care.
Year 2003:
The festival dedicated to the Latin American peoples, promoting programming companies from across the "big pond" and dedicating all proceeds of the Solidary Ticket at the Cuban Urban Dance Festival "Habana Vieja – City in Motion".