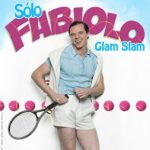 A different mood proposal. An exquisite satire of the current Spanish in "One man show" format in the mouth and body of FABIOLO, a posh figure of the Madrid jet set, irreverent, lackluster and bare as only the very rich know how to be. The actor RAFA MAZA dresses tennis player to handle the racket of the present with his own style and elegance snob. If anyone knows what is cooked in the high spheres, that is FABIOLO and he has come to tell us. In spite of his insolence and his obvious lack of tact, the personage puts to the public in the pocket, that enthusiastically applauds every gesture, every imitation, every anecdote. Time seems to flow as light as the protagonist's morality. He sees reality in his own way and comments without filters, spontaneously. From that elite to which it belongs gives us advice to play the "great match of life", create Spain brand, or make safaris by the savannah. In this fresh, unique and different show, Rafa Maza unfolds a wide range of numbers and gags combined with juggling, magic and even light song, highlighting above all his talent for the imitations of current characters and improvisation with the public.
Company: Fabiolo Producciones (Spain – Madrid).
Official Program
Performances: Sept...
>>