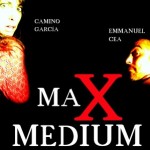 Adela, a widow, lonely and desperate goes to the consultation of an eccentric medium, Maximilian. At this meeting Adela asks Max to contact the spirit of her husband, died, with her to settle a matter that was pending between them and three long years. Max accepts put them in touch, but has a special offer for it that will be very difficult to refuse, since the skills not only reduce Max spiritualism.
Company: El Callejón de Lola (Spain – Madrid).
Official Program
Performances: Sept.26, 2015 at 10:15 pm.
Space: Patio Hospitalillo.
Duration: 15′ / Adult Audience.