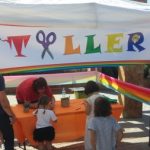 Space for fun and educational leisure focused on the theatrical world, for children from 2 to 12 years without forgetting the adults who accompany. They will be able to develop their creativity and enjoy original and fun activities, always based on the Theater.
Organizatión: Piruleta 7 más 2 (Spain – Madrid).
Parallel Arts
Promoting Local Companies
Activity: Sept.30, 2017 at 12:30 am.
Space: Parque Aviocar (El Bercial).
Activity: Oct.1, 2017 at 12:00 am.
Space: La Pajarera.
Duration: 120′ / Children Audiences.