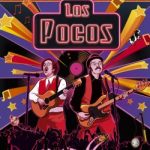 It is a mixture of monologue and humorous songs that uses the excuse of gathering a fake group that was famous in the 80s (Los Pocos, rivals of Los Pecos) formed by comedian Pepe Macías and singer-songwriter Kiko Tovar… It is not a monologue because they are two. It is not a concert because they talk too much. It's not something new because they were a hit in the 80s. It's a documentary, but it's not recorded. Music, humor and some mustache.
Company: Los Pocos (Spain – Madrid)

Official Program
Space: Plaza Ayuntamiento / Getafe 
Performances: Sept.29, 2019 at 8:30 pm.
Duration: 90′ / All Audiences