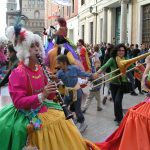 Two courtesans and Mr. Marquis de Pataslargas, made a trip in cart accompanied by their servants and a band of musicians. Tired and bored of so much trip, they decide to make a stop (Getafe) to stretch their long legs, to dance, to play and to have fun for a while. They also like to know the place of the stop and its people and boast showing their hairstyles, their luxurious dresses and their more than Frenchized manners. Live music with themes arranged from Mozart's amusements and popular themes.
Company: Espiral Teatro (Spain – Madrid).
Official Program
Promoting Local Companies
Performances: Oct.1, 2017 at 0:30 pm.
Space: Plaza Lorca to La Pajarera.
Duration: 80′ / All Audiences.