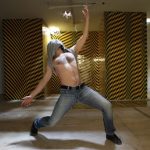 Exploring the limits and development of personal space under the conditions of society, reflecting on the deception that we live today and the false sense of freedom they offer us, I wonder how we got here?
Company: Asociación Primario – Denislav Valentinov (Spain – Madrid).
Denislav Valentinov begins his studies of Dance-Theater at the Academy of Performing Arts and Cinema Krastio Sarafov in Sofia (Bulgaria). Years later she continued her training in Madrid where she graduated from the Royal Mariemma Professional Conservatory of Dance in the specialty of Contemporary Dance. At the same time he participates in different workshops of improvisation, Flying Low, Contact and Creation choreography. He collaborates several times with the company T.A.C.H. and participates in different projects of choreographers such as Mónica Runde, Sharon Fridman, Gloria García, Clara Andermatt and Pedro Berdäyes, among others. It forms part of Aula3 Platform of creation with the project Time Out (piece premiered within the Festival Surge Madrid, 2016). In 2014-1015 he developed two of his own projects: HOAX, Mention of Honor in the Young Creators Competition of Madrid 2015, and Forecasted (cinema-dance), 2nd Prize in Óxido Fest Screen Dance. As a teacher she teaches regular classes and workshops on contemporary dance, improvisation and contact in Spain and abroad.
Official Program
Performances: Oct.1, 2017 at 7:30 pm.
Space: Patio I.
Duration: 10′ / All Audiences.