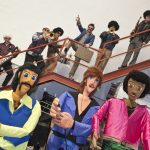 Parade themed Disco 80s. Village People themes, Boney M, Bee Gees… The band consists of a quintet of music (trumpet, saxophone, trombone, keyboard and box) with a car with musical bases directed by a character-actor. They are also accompanied by 3 giant puppets.
Company: Birloque Producciones (Spain – Cantabria).
Official Program
Performances: Sept.30, 2017 at 9:00 pm.
Space: Plaza Palacio – Calle Madrid – Plaza Ayuntamiento.
Duration: 90′ / All Audiences.