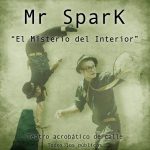 (… Or maybe we should say The Ministry of the Interior?? …) Mr Spark has to work like every day in his office, but that day and he doesn't know why, he has a huge circle of people watching him. Mr Spark already has a series of defects that prevent him from doing his job effectively, but this time with the presence of the public, this work day, which is going to be the last one, will become, at least, In a fabulous street show.
Company: Mr Spark (France/Spain)

Official Program
Space: Plaza Teatro / Navalcarnero 

Performances: Sept.27, 2019 at 7:30 pm.
Space: Parque Los Molinos (Los Molinos) / Getafe 

Performances: Sept.28, 2019 at 12:30 pm.
Duration: 30′ / All Audiences.
You, as an audience, are not only going to be a spectator, but also an accomplice of his failure as a worker… His poor defects as an office worker will become his best virtues as the protagonist of a show. This "Mystery of the Interior" is presented as an accidental chain of comic scenes starring a tender character and dressed with different artistic techniques. An interesting, fresh and innovative mix of circus, physical theater, object manipulation and public participation.