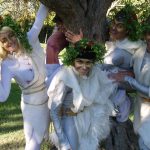 Two Stories… Two Dreams… Stories!… Dreams!… Stories as dreams and dreams as stories… Stories to awaken the marmot and the moles and stories to sleep the owl and the owl. Stories for children and girls… For the gossips and the old ones. Tales of water and fire. We carry in this bag, all kinds of stories… Stories translated into a universal, theatrical and poetic language… dramatic form and movement. We bring these pixies with a bag full of stories….
Company: Teatro Destellos (Spain – Madrid).
Street Artists Meeting Aranda de Duero 2018
Performances: Sept.14 2018 at 1:00 pm and at 8:00 pm.
Space: Plaza de la Constitución (Aranda de Duero).
Duration: 45′ / All Audiences.