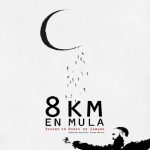 A chronicle of events, a real event occurred on the night of July 22, 1928 in the Cortijo del Fraile in Níjar, Almería, served as an inspiration to Federico García Lorca for the creation of his work "Bodas de Sangre". A forbidden love in a society that keeps up appearances. An instinctive force that tends to irrational union opposing, without seeking it, social conventionalism. On her wedding day a bride escapes with her lover. The groom follows them and the outcome takes place, the rivals stab each other, causing death in both.
Company: Álvaro Murillo (Spain – Cáceres)
Official Program
Space: Parque Cafetería Humanidades UC3M/ Getafe

Performances: Sept.26, 2019 at 2:00 pm.
Duration: 15′ / All Audiences.
The body uses the language of dance to tell a damn love story. The movement as a communication tool, carries with it statements regarding death and love. A dance chronicle of the work, a Flemish version of the story. 8 kilometers are those that traveled Paco Montes and Paquita Cañada without being able to reach dawn…
Awards:
Best local piece on the emerging dance platform of the 17 DZM Festival in Cáceres. December 14, 2018.
Second prize in the modality of contemporary dance and special prize "Festival XII Gatadans", in the 'II URBAN FÁCYL INTERNATIONAL CERTAMEN "in Salamanca. June 2, 2019.
Programming done by #SoyPrimario / Asociación Primario in collaboration with the "XII Gatadans" festival and in "Danza en Valores" Choreographic Contest
Show Sponsored by: