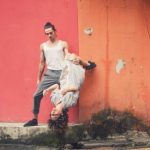 This piece shows the emotions of sadness, anxiety and oppression that this woman suffered when she escaped from North Korea in the 90s, crossing the Gobi desert and hiding in rural China. Based on real facts.
Company: Zuk Dance Company (Spain – Madrid)
Official Program
Space: Cruce Hospitalillo / Getafe

Performances: Sept.28, 2019 at 6:30 pm and 8:30 pm.
Duration: 15′ / All Audiences
Programming done by #SoyPrimario / Asociación Primario in collaboration with the "XII Gatadans" festival and in "Danza en Valores" Choreographic Contest
Show Sponsored by: