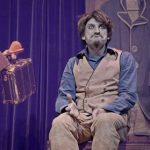 A tremendous boy will try to turn what passes in front of him. Emotion, energy, circus, magic, humor and excellence. A Tribute to the game and the love. Come and see….
Company: Nando Caneca (Spain – Madrid).
Street Artists Meeting Aranda de Duero 2018
Performances: Sept.13 2018 at 13:00 pm and at 19:30 pm.
Space: Plaza de la Constitución (Aranda de Duero).
Duration: 40′ / All Audiences.