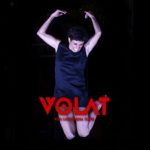 In VOLAT a dancer transports us, from the most artificial and unconscious side to the simplest and most tender to find happiness with the memory of childhood innocence, between dance and poetry, between the animal and the human, between what imprisons us and what is merely necessary. A cry to freedom, an invitation to reflection and a boost to the search for the essentials from the artistic universe of the multifaceted Pepa Cases.
Company: Pepa Cases (Spain – Castellón)

Official Program
Space: Plaza RENFE / Getafe 

Performances: Sept.29, 2019 at 7:00 pm.
Duration: 30′ / Al Audiences
We live in a society where appearance is the most important, where you are what you have or what you seem to have or be. We show ourselves as we want to be but almost never as we are. This makes us think about the idea of ​​returning to the essence, of the simple, of the fragile, of the only necessary. On the street we can observe millions of people and judge them according to their clothing and lifestyle, but do we need so much to be happy? We create with the base of a work aimed at the search for the essentials, where less is more and where for this, the dancer is animalized at the beginning and humanized at the end of this story making us partakers of her "open eyes" of her "realize that" happiness brings us freedom and never material things. We are used to pretend, to be full of uncomfortable attire, of artifice, of immense social burdens, to lead a superficial life that hinders us from freedom of movement and encloses us in a cage, sometimes invisible but always real. But life always gives you the opportunity to realize and to seek freedom by returning to the essence of things. A street dance-theater show for all audiences where you can clearly see the diminishing of this vital need to search for the essence in a poetic way to reflect on the needs, appearances and real happiness of the human being.