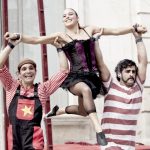 ¡Vaya Circo! is a spectacle for all audiences in which two characters see the tranquility of their lives altered, in an old and neglected circus, by the arrival of an artist with airs of grandeur ready to carry out a show full of humor and emotion. Unintentionally they will unite with a single purpose, to carry out the function. Improvised artists that will make us laugh and enjoy all the charm of the circus, with Korean poses, acrobatics, trapeze, cyr ring and many more surprises that will make us enjoy and thrill… with ¡Vaya Circo!
Company: Kanbahiota Trup (Spain – Madrid).
Official Program
Performances: Sept.1, 2017 at 6:30 pm.
Space: Plaza Lorca.
Duration: 50′ / All Audiences.