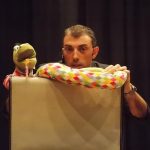 The children are magicians and magicians, the great ones remember how magical they are and enjoy the double, for the spectacle and to see his people have a good time. It is a magic show for all audiences and to enjoy it as a family, because it is fun and designed for the more frequent audience. Combination of magic and humor in the right measures. The wizard Oski will make you laugh, participate and excite you making you spend an unparalleled moment.
Company: Mago-oski (Spain – Salamanca).
Off-FITEC Program
Performances: Oct.2 2016 at 1:00 pm.
Space: Calle Madrid.
Performances: Oct.2 2016 at 6:30 pm.
Space: Plaza Palacio.
Duration: 40′ / All Audiences.