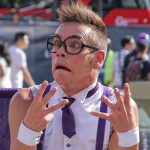 A very intense and delicate work, focused on the interaction with the public, with disciplines such as the manipulation of objects, the pantomime or the balances that Thelmo uses as a tool to improvise situations, create games, share moments, project emotions… Getting as it turns out to be an exciting, dynamic and fun show… With an innocent, sometimes eccentric sense of humor… and an almost total absence of the sense of ridicule… Thelmo connects with the viewer in a natural, sincere, nude way , unpretentious… Transforming his sophisticated but almost awkward appearance into a more athletic but misaligned, almost ridiculous…. Taking off his pasta glasses and changing his suit and tie for his lycra mesh and superhero cape.
Company: Thelmo Parole (Spain – Madrid)
Street Artists Meeting Aranda de Duero 2018
Space: Plaza Santa María / Aranda de Duero
Performances: Sept.14 2018 at 2:00 pm and at 9:00 pm.
Duration: 50′ / All Audiences