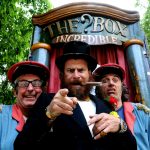 More than 150 years after its premiere, THE INCREDIBLE BOX continues to be represented. Then it was a success. Today the director, great-grandson of the founder, and two eccentric assistants try to maintain the greatness of the Show… It does not have the glow of the beginning, but they maintain some costumes, the scenery and the spirit. But time passes, singers lose their voice, acrobats reflexes, actors memory… And artistic talent is not inherited. Maybe at the end of so much trying to be magnificent they will get it.
Company: Cia. La Tal (Spain – Barcelona)

Official Program
Space: Plaza Ayuntamiento / Getafe 
Performances: Sept.28, 2019 at 7:30 pm.
Duration: 45′ / All Audiences