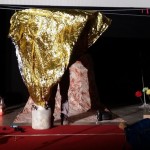 It is a piece halfway between dance, performance, theater or sensory object theater for children between 6 months to 2 years old. Here there is a story, there is a person and objects. The issues appear as a sound, a smell, a feeling or gesture, the verb "to be" is extended to multiple possibilities and things simply pass them things.
Company: Piruleta 7 más 2 (Spain – Madrid).
Official Program
Promoting Local Companies
Performances: Sept.26, 2015 at 12:00 am, at 5:00 pm and at 6:30 pm.
Space: Teatro Lorca (Children-Room).
Duration: 30′ / Children Audiences (6 months to 2 years old).