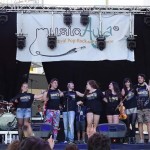 Pop and Rock Group of the Municipal School of Music "Maestro Gombau". Salida de Emergencia in Concert is a combination of various musical styles such as rock, soul, funk and electronic music.
Company: Salida de Emergencia (Spain – Madrid).
Official Program
Promoting Local Companies
Performances: Sept.25, 2015 at 9:00 pm.
Space: Patio Hospitalillo.
Duration: 45′ / All Audiences.