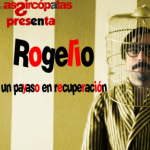 Rogelio has been locked in his house for 20 years. In high school he was bullied. After reading Paulo Coelho and following a 12-step therapy, he is on the last step. Step number 12: do what you like most in public, magic. If everything goes well today, you are discharged and tomorrow you will have the most important appointment of your life. That is cured with the help of the public.
Company: asSircópatas (Spain – A Coruña)

Official Program
Space: Plaza Palacio / Getafe 

Performances: Sept.28, 2019 at 7:00 pm.
Space: Calle Pino Silvestre (El Pinar) / Navalcarnero 

Performances: Sept.29, 2019 at 12:00 am.
Duration: 45′ / All Audiences
A clown show from a clown that doesn't have much filter. That validates all the cliches that should not be done on stage. Rogelio is a seemingly innocent but somewhat manipulative clown. We all need to be loved and helped. In the background we all carry a Rogelio inside. Saying what you think, without prejudice, from innocence, is what helps you empathize with others.