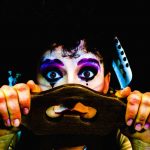 Ray Hada Disociada wants to play a song, but the mess of all the objects in the scenic space will lead him to become stupid and feel unable to accomplish his goal… at first. Because many times in despair you can find the true hope of a dream. And it will be this premise that will lead Ray to manage them with his various circus skills, mixing them with each other and managing to surprise himself and everyone who observes her.
Company: Ido Lo cA (Spain – Navarra)

Official Program
Space: Parque Aviocar (El Bercial) / Getafe 

Performances: Sept.29, 2019 at 12:30 pm.
Duration: 45′ / All Audiences