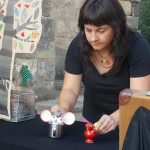 Raíces is a forest not far away from where different animals live to which crazy stories happen to them. A hedgehog looking for food, a house in the middle of the forest, good wolves and not so good. A session of stories where humor and surprises prevails loaded with sounds of nature.
Company: Habichuela Cuentacuentos (Spain – Salamanca).
Off-FITEC Program
Performances: Oct.2 2016 at 11:30 am.
Space: Calle Madrid.
Performances: Oct.2 2016 at 5:00 pm.
Space: Plaza Palacio.
Duration: 40′ / Child Audience.