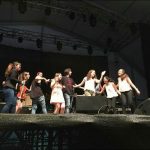 They say that variety is the spice, and the idea came Quimera. It is a band composed of 8 members with different styles: Pop, Rock, Ballads, Funk, etc… and eager to give cane.
Company: Quimera (Spain – Madrid).
Official Program
Promoting Local Companies
Performances: Oct.1, 2017 at 8:30 pm.
Space: Plaza Palacio.
Duration: 30′ / All Audiences.