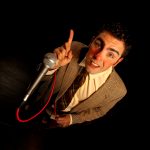 A magic show seen through the eyes of a clown: A clown dressed person is late for his show. The dressing room is behind the stage and the audience waiting. He would have to be changed, but now will not leave the scene. How did you manage to dress in front of so many people? Fortunately, in your suitcase it is a world.
Company: Adrián Conde (Spain – Asturias).
Official Program
Performances: Oct.2, 2011 at 1:00 pm.
Space: Plaza Ayuntamiento.
Duration: 45′ / All Audiences.