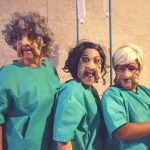 Three grandmothers decide to escape from the hospital, where they have been admitted for some time, to celebrate their possible last day. Happy Last Day!… Humor and play. Age has no limits when you know that today may be your last waltz. The party is guaranteed.
Company: Cia. Ella (Spain – Barcelona)
Official Program
Space: Plaza Guardia Civil / Parla
⇒ Bulevar RENFE / Parla 
Performances: Nov.10, 2019 at 6:30 pm.
Duration: 50′ / All Audiences
PELLEJOS is a partially itinerant show where we walk along the street, play with people, but above all we dance with life.