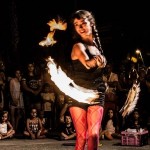 It is a comedy show which includes skills such as balloon twisting, chemical magic, acrobatics, music and now… tap dancing! It is a show full of energy and good vibrations. The search for a particular artist looking for the Total Artwork in an increasingly frantic and craziest race. Getting stronger, higher and higher, until reaching the Grand Final: make a box, upside down, two meters high and with the mouth.
Company: Patty Diphussa (Spain – La Coruna).
Street Artists Meetig Aranda de Duero 2018
Performances: Sept.12, 2018 at 1:00 and at 8:00 pm.
Space: Plaza de la Constitución (Aranda de Duero).
Duration: 45′ / All Audiences.