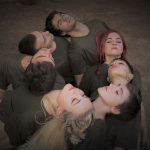 It's the end of the world, seven surviving tribes need a link to understand each other in the face of their diversity, that link is a common language: "The Dance". Dance is a language because through it, the human being expresses and speaks with the body. "In turn, the body is precisely the instrument that allows us to express feelings, emotions, meanings, even ancestral burdens if we go on a more internal search".
Company: Pangea (Spain – Madrid)
Official Program
Space: Plaza Palacio / Getafe 

Performances: Sept.29, 2019 at 6:00 pm and 7:30 pm.
Duration: 5′ / All Audiences
Programming done by #SoyPrimario / Asociación Primario in collaboration with the "XII Gatadans" festival and in "Danza en Valores" Choreographic Contest
Show Sponsored by: