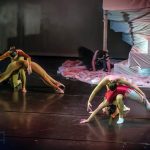 From ancient ceramics reflecting dance and sporting prowess of marathoners and art of the dancers in the temples, it is reflected in today's world the explosion of dance in all auditoriums and of course on the street. Luis Ruffo company has invigorated the world of dance in Getafe in recent years, having his best shown in FITEC.
Company: Ballet Contemporáneo de Madrid (Spain – Madrid).
Official Program
Promoting Local Companies
Performances: Oct.1, 2016 at 8:00 pm, at 9:00 pm and at 10:30 pm.
Space: Plaza Palacio.
Duration: 30′ / All Audiences.