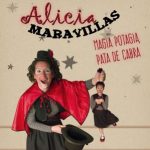 Alicia wants to do wonders and become a star. When she wants to do magic, she turns out to be more pious than magician. He is telepathic with telepathy and practices a very elementary mentalism. Her great illusion for being an illusionist turns her into an illusion and if she plays at being fakir, she will end up in pain. This clown show is a clown wink to the world of magic and a small tribute to classic clowns.
Company: Alicia Maravillas (Spain – Valladolid)

Official Program
Space: La Terraza del Obispo / Getafe 

Performances: Sept.28, 2018 at 6:00 pm.
Space: Parque Aviocar (El Bercial) / Getafe 

Performances: Sept.29, 2018 a las 12:30 pm.
Duration: 45′ / All Audiences