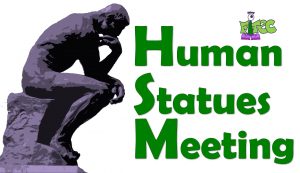 The F.I.T.E.C. (International Street Theater Festival), counting on the coordination of Teatro Destellos Company, we will once again hold the Human Statues Meeting, of Moncloa-Aravaca district of Madrid city.
The meeting will be held on October 28, 2018, in a single day, and will have a minimum duration of an hour and a half, showing a total of 10 Human Statues that will be selected from among all the proposals that reach us.
If you are interested in participating, we need you to communicate it to us by making an e-mail registration to the email: festivalfitec@gmail.com or through our CONTACT, form to make the selection, providing the following documentation:
Name, ID or NIF of the person or persons who will exhibit.
Telephone and contact E-Mail.
Title of the Statue.
Brief synopsis about the statue and the artist (no more than 5 lines).
Updated photograph of the Statue.
The specific conditions of the Meeting are:
A total of €100.00 will be paid per statue or sets.
The statues or sets, may "pass the cap" during the time stay doing the activity in their respective spaces.
The Human Statues or Sets, will have a minimum duration of 1 hour and a half in the space assigned to them by the organization.
If you want to stay in the spaces for longer than authorized they must inform the Organization in advance and in good time, for the management of the corresponding permits.
The Human Statues or Sets will be duly accredited and identified through accreditations that will be provided by the Organization, and will facilitate their identification before the municipal agents in case of being required.
The Organization will manage and process the permits for the occupation of public roads for each of the participating Statues or Sets.
The statues or Sets must be autonomous with regard to characterization and/or dressing room needs.
The Organization will be responsible for the dissemination of the event through social networks and public address through the main streets of the city of Madrid.
Thanking you in advance for your participation, welcome a greeting.