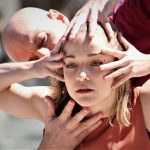 Lo Invisible is a dance piece that explores the vital sensations of some determining moments in a person's life. This piece is a dance of the conscious and the unconscious, of the visible and the invisible, of the forces that take us away from our dreams, that subject us, but also of an indomitable nature that reveals itself to what can separate us from what essential of our path, and where the interpreters play with their physical differences and life experiences to show the duality of this being, each of the dancers representing their contradictions, successes, desires and fears.
Company: No Bautizados (Spain – Madrid)
Official Program
Space: Plaza Palacio / Getafe 

Performances: Sept.29, 2019 at 6:30 pm and 8:00 pm.
Duration: 22′ / All Audiences
Programming done by #SoyPrimario / Asociación Primario in collaboration with the "XII Gatadans" festival and in "Danza en Valores" Choreographic Contest
Show Sponsored by: