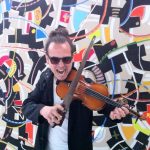 Musical show that reinvents the idea of one-man band, developing musical themes layered live by recording "loops". Simon Garcia invited to make an exciting journey through different musical styles from classical music to electronic, through their violins. A revolution concept concert now at your fingertips.
Company: Chop Sway (Spain – Madrid).
Official Program
Performances: Oct.2, 2016 at 8:30 pm.
Space: Patio Hospitalillo.
Duration: 45′ / All Audiences.