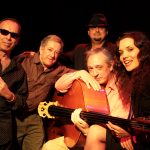 Larry Martin Band, is one of the most solid and recognized groups and currently one of the top leaders of the Jazz-Blues made in Spain. Themes Jazz & Blues interpreted by a voice with a great ability to communicate feelings and emotions and musicians who shine in their own and can, with their arrangements, create environments that make the listener dive into a sound universe of unforgettable "standars" along with many other originals, each with its own discourse.
Company: Larry Martin Band (Spain – Madrid).
Black Jazz Festival.
Performances: October 7, 2011 at 10:15 pm.
Space: Patio Hospitalillo.
Duration: 60′ / All Audiences.