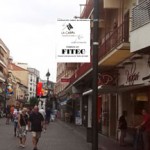 Thirty-two artists from the Carpa exposed photographs of works related to the theme of FITEC (music, dance, theatre) in the streetlights Madrid Getafe, forming a decorated background to the activities planned in its 2015 edition.
Organizatión: La Carpa (Spain – Madrid).
Parallel Arts
Promoting Local Companies
Activity: Sept.21 to 27, 2015.
Space: Calle Madrid.
All Audiences.