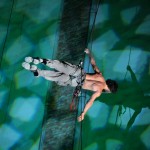 Analyzing the architecture and how it passes by humans, the show takes as its starting point the very basis of vertical dance: the use of the wall as the floor. Through music and flamenco dance, contemporary dance and acrobatics we compose a unique collage in each performance, as each building is unique.
– Andalusian Association of Professional Dance Award 2014 Best street show.
– 2nd International Competition Dance Award Burgos-New York 2014.
Company: B612 (Spain – Sevilla).
Official Program
Performances: Sept.26, 2015 at 9:30 pm and at 11:00 pm.
Space: Plaza Ayuntamiento.
Duration: 25′ / All Audiences.