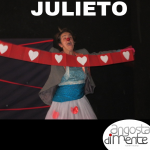 Angosta di Mente stars in a street clown show. The function takes as a reference the character of Juliet. Narrow calls Julieto. Juliet does not come. The tragedy is served and at the same time it can not be. Narrow is that character without an author who wants to die for love and, above all, reach the end of the performance.
Company: Angosta di Mente (Spain – Madrid)

Official Program
Space: Plaza RENFE / Getafe 

Performances: Sept.29, 2018 at 6:00 pm and 7:30 pm.
Duration: 50′ / Al Audiences