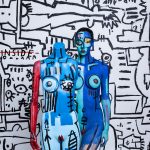 INside is a piece in which dance, design and painting dialogue. The various artistic approaches involved share their ephemeral nature on stage. "INside" reflects the functioning of the creative process of an artist who manages to free himself from the weight of superficiality and start a melee with himself. An exercise of inner revelation that extols the least visible of the senses and wraps the unknowns of intimacy that every creation project requires.
Company: Lara Padilla (Spain – Madrid)
Official Program
Space: Parque Cafetería Humanidades UC3M/ Getafe

Performances: Sept.26, 2019 at 2:20 pm.
Duration: 15′ / All Audiences
Programming done by #SoyPrimario / Asociación Primario in collaboration with the "XII Gatadans" festival and in "Danza en Valores" Choreographic Contest
Show Sponsored by: