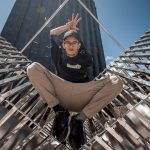 Improvisations of Samuel Martí. Show based on improvisations based on three disciplines mainly: hip hop, popping and animation. Where they include dance, comedy and representation… They are never choreographed, they are created ninety percent by him, including the assembly of music. They are never equal and that surprise factor has earned him the applause of criticism and public in equal parts.
Company: Samuel Martí (Spain – Madrid)
Official Program
Space: Cruce Hospitalillo / Getafe 

Performances: Sept.28, 2019 at 7:00 pm and 9:00 pm.
Duration: 9′ / All Audiences
Programming done by #SoyPrimario / Asociación Primario in collaboration with the "XII Gatadans" festival and in "Danza en Valores" Choreographic Contest
Show Sponsored by: