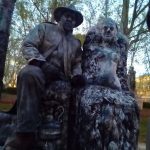 Summed in their enigmatic stillness, they are a fashionable phenomenon in many cities of the world, causing a sensation of mystery, alien to the movement of the street, apparently absent from reality. On Sunday, April 22, you can find them in the Parque del Egido of Pinto (Madrid)… Do not forget that if they are your favorite, thank your contribution of some coins with a slight furtive greeting.
Activity: Apr.28, 2019 at 11:00 am.
Space: Parque del Egido (Pinto).
All Audiences.
Organiza: