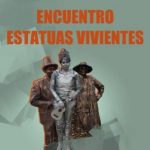 Summed in their enigmatic stillness, they are a fashionable phenomenon in many cities of the world, causing a sense of mystery, alien to the movement of the street, seemingly absent from reality. On Sunday December 15 you can find them in the Temple of Debod of Madrid… Do not forget that if they are of your pleasure, thank your contribution of some coins with a slight sneak.
Space: Templo Debod / Madrid Capital 
Activity: Dec.15, 2019 at 1:00 pm.
All Audiences
Organiza: