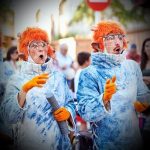 The mothership has left them on earth. Three explorers arrive in their reconnaissance vehicles, in order to collect samples. The Greis have a universal language, without words. They watch, analyze and play. They are naughty, endearing and very spontaneous explorers. They are activated through music and the sounds they emit through their reconnaissance vehicles.
Company: Cia. Sin Fin (Spain – Madrid)
Official Program
Space: Plaza Ayuntamiento / Getafe 
⇒ Calle Madrid / Getafe 

⇒ Plaza Palacio / Getafe 

Performances: Sept.29, 2019 at 12:30 pm.
Duration: 45′ / All Audiences
Arriving from the endless galaxy, the "Greis", some nice and funny aliens come to earth wanting to have fun. On board their exploration vehicles, they walk the streets of the city interacting with the human beings they encounter in their path. An authentic visual spectacle, full of music, galactic occurrences and surprises where the universal language of humor is mixed with the essence of the purest street theater.