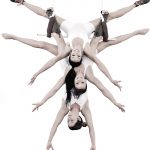 A fabulous circus where the hand of a master of ceremonies, we can enjoy various related Circus School in Madrid artists. Pellets, Juggling, Acrobatic Portes, Music, Acrobatics, balancing on chair, Air… virtuoso technique seasoned with humor.
Company: Escuela de Circo Carampa (Spain – Madrid).
Official Program
Performances: Oct.2, 2016 at 6:30 pm.
Space: Plaza RENFE.
Duration: 60′ / All Audiences.