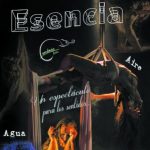 Based on ancient Celtic legends, which talk about the five elements, secrets jealously guarded by ancient cultures are revealed: the origin, the birth from the shadows of a small light; the fire, the strength of the earth, the volatileness of the air or the vitality that can enclose the water, so the four elements have been presented, and the great secret is revealed to us: their combination, the ultimate result of these elements will give us a fifth and magical factor: The essence, that where according to tradition coexist water, air, fire and earth with the ethereal, with the spirit.
Company: Camaleón Teatro (Spain – Madrid)
Official Program
Local Companies Promotion
Space: Plaza Ayuntamiento / Navalcarnero 
Performances: Sept.28, 2019 at 10:00 pm.
Duration: 40′ / All Audiences
An explosion of light and color where dance and music, fire and pyrotechnics, water and air, combine with an elaborate text to offer a tremendous visual spectacle.