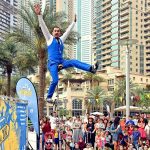 "The street is a fantastic place to act, you can achieve unique representations" (Mr. Tartuffo). His street show is a combination of techniques acquired over years of training, such as juggling, balancing, magic and comedy, mixed with improvisation and public intervention.
Company: Mr. Tartuffo (Chile)
Official Program
Space: Plaza Guardia Civil / Parla
Performances: Nov.8, 2019 at 6:30 pm.
Duration: 45′ / All Audiences
"El Típico Malabarista" is a show that has toured 47 countries on three continents and could travel around the world; Since Mr. Tartuffo's experience has shown that, the things that people laugh at are the same in any part of the planet.