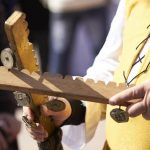 A very Andalusian minstrel come to the wide Castillas comes to offer songs, songs, ballads and romances of medieval Andalusia, Christian land and blackberry, but happy times of upheaval.
Company: Iérbola (Spain – Madrid).
Official Program
Promoting Local Companies
Performances: Oct.2, 2016 at 8:30 pm.
Space: Plaza Ayuntamiento to Plaza Palacio.
Duration: 120′ / All Audiences.